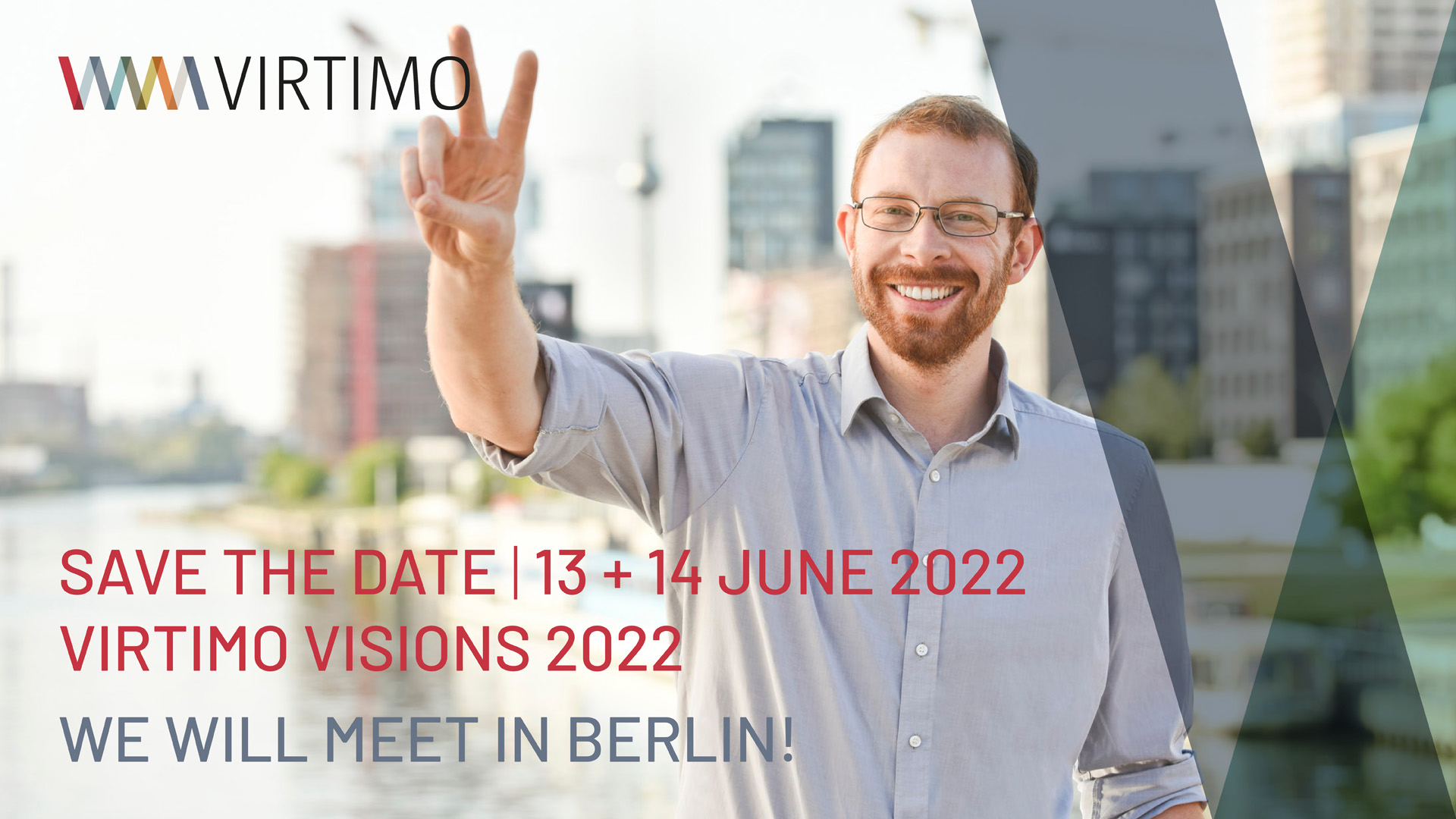 VIRTIMO VISIONS 2022 IN BERLIN | JUNE 13 + 14, 2022
We are very happy to invite our customers and partners to a VIRTIMO VISIONS in presence! Participants can look forward to two days in Berlin with lots of exciting topics such as the presentation of the major releases inubit 8.0 and BPC 4.0 as well as other innovations and of course time for networking on the inspiring EUREF campus.
VERANSTALTUNG. LIKE EVENT.
Monday, June 13, 2022 | 10 a.m. – approx. 10 p.m. +
Tuesday, June 14, 2022 | 10 a.m. – 3 p.m.
VOR ORT. LIKE ON-SITE.
For the VIRTIMO VISIONS 2022, we have found a very special location in the EUREF Campus in Berlin: EUREF stands for the "European Energy Forum" and pursues the idea of a model quarter for the climate-neutral, resource-saving and intelligent city of tomorrow. The site combines modern architecture with historic clinker and brick buildings of the former Schöneberg gasworks, thus shaping the special character of the urban quarter.
VERBINDUNG. LIKE CONNECTION.
We look forward to personal encounters and active exchange with you! We ask you to follow the 2G guideline (vaccinated or recovered) and, if possible, to take a quick test before the event. All these measures are of course no guarantee, but serve the safety of all of us and a relaxed get-together. Thank you very much!
VORFREUDE. LIKE ANTICIPATION.
We continue to drive the topic of digital transformation for you: the focus of VIRTIMO VISIONS 2022 will be on the major releases inubit 8.0 and BPC 4.0 as well as other news from the digital Virtimo manufacture – be excited! As always, we combine work, networking and pleasure, you can expect two interesting and entertaining days.
YOU HAVE QUESTIONS?

YOUR CONTACT PERSON AT VIRTIMO.