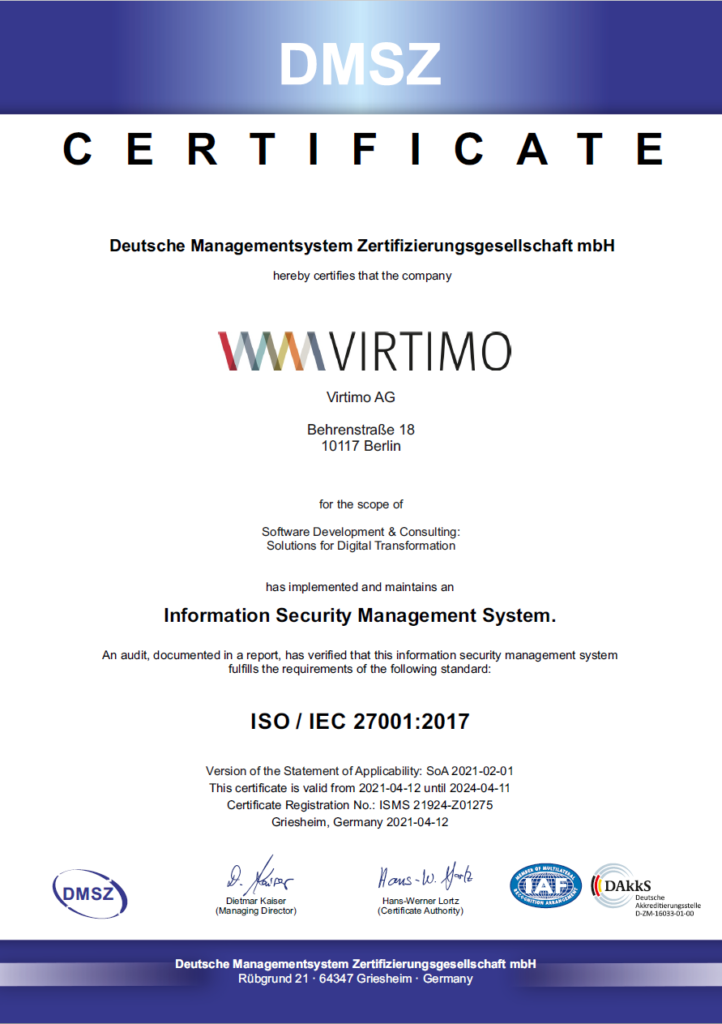 WE ARE CERTIFIED ACCORDING TO ISO/IEC 27001:2017 ⎼ HAND AND SEAL FOR OUR INFORMATION SECURITY!
After a successful audit we are now certified according to ISO/IEC 27001:2017 for our information security management system in the area of software development and consulting: solutions for digital transformation.
An organisation can prove the information security of its management system [ISMS] with an ISO 27001 certificate according to IT baseline protection. The certified organisation thus demonstrates their successful implementation of the proven methods of the Federal Office for Information Security – in passing the audit procedure with our information security management system [ISMS], we have now achieved this!
What the ISMS entails is explained by Ina Schulz, one of the heads of consulting at Virtimo: "The ISMS describes internal guidelines and processes which help ensure that any requirements and expectations by clients, suppliers, service providers, as well as our employees, shareholders and other interested parties concerning the security of our products, services and communication will be considered and met."
Christoph Fuchß, board member of Virtimo AG, adds: "Information is one of the crucial assets for Virtimo. It is a fundamental component of our business operations and, as IT consultants and software developers, an essential basis for reaching our company goal of being a reliable partner to our clients in their digital transformation."
Because of the constant advancements in information technology, these information security guidelines as well as all rules and concepts built on them are subject to continuous adjustments and development. The information security guidelines can be viewed by all employees at Virtimo and, on request, are also made available to any interested company partners.