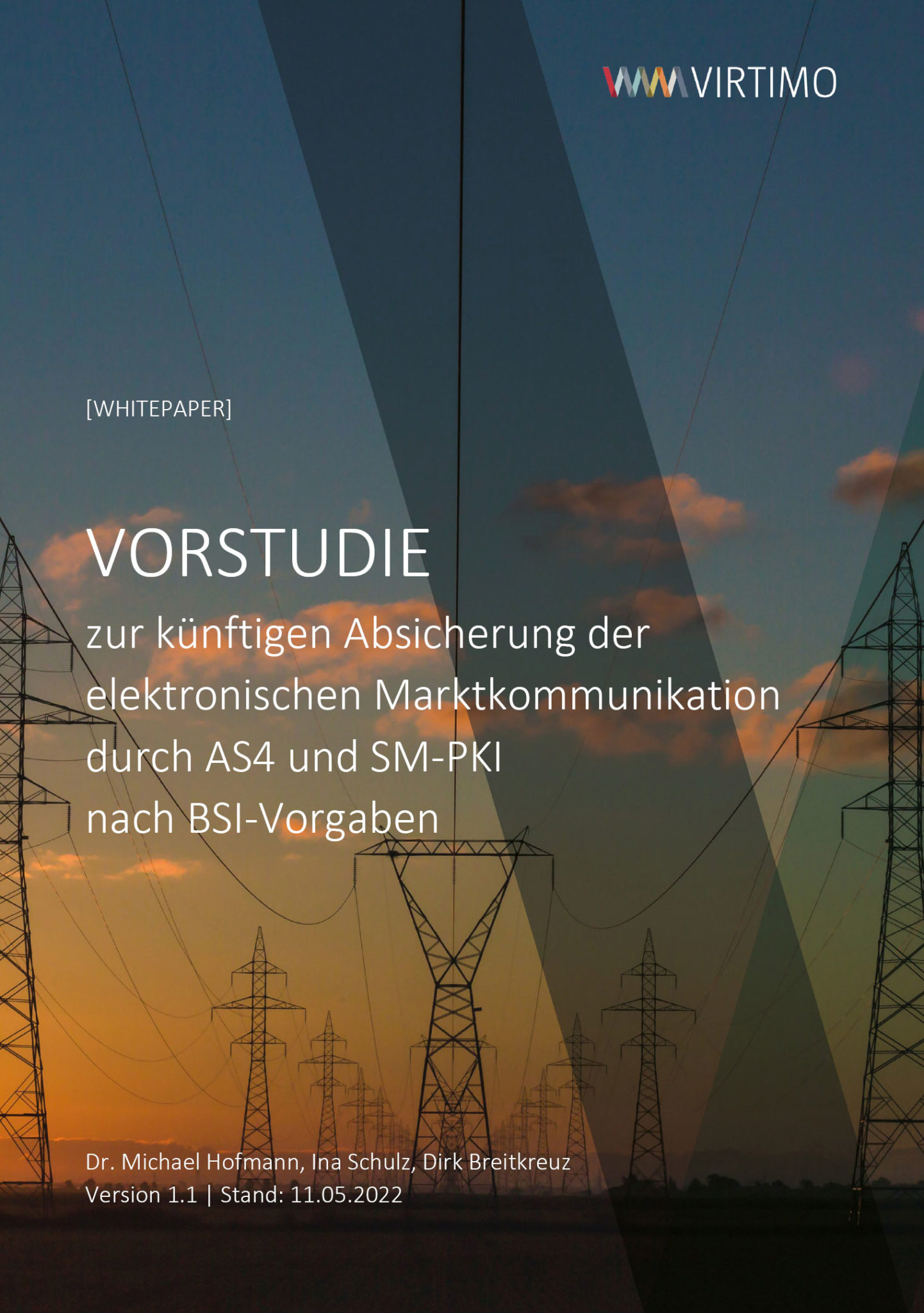 BSI CALLS FOR COMPLETE REALIGNMENT OF MARKET COMMUNICATIONS BY 2024.
The German Federal Office for Information Security [BSI] is calling for a complete realignment of market communications in order to ensure the continued information security and sustainability of the energy market. Time is pressing – all market partners must implement the new requirements within two years! Virtimo AG, a long-standing IT partner of the energy industry, publishes a preliminary study as a white paper and expands the range of services of the Virtimo Communication Service [VICOS] to include the new requirements.
REPLACEMENT OF CURRENT TECHNOLOGIES IN MAKO: VIRTIMO SHOWS WAYS OF IMPLEMENTATION WITH POC AND PRELIMINARY STUDY. 
In coordination with the BSI, BDEW has developed a new communication paradigm. A holistic approach that completely replaces the previous market communication specifications for the German energy market. The technological feasibility of the cryptographic requirements for the new BSI security procedures has already been proven by Virtimo AG and BDEW as project partners in a Proof of Concept [PoC]. In a preliminary study, Virtimo has also investigated fields of action and requirements for a concrete implementation of the new regulations.
WHAT DOES THE COMING PARADIGM SHIFT IN MARKET COMMUNICATION MEAN FOR THE ENERGY INDUSTRY IN CONCRETE TERMS?
"In principle, no stone will be left unturned: Protocols, certificates, encryption, data storage, software, hardware, personnel, overall organization – all current procedures and regulations will lose their validity. Added to this is the time pressure: the changeover of all market partners must be completed by the end of March 2024. Continued use of the existing protocols beyond this date is not permitted." explains Dr. Michael Hofmann, market communication expert at Virtimo AG.
COMPLEX, MULTIDIMENSIONAL, TIME-CRITICAL – THE PROJECT PLAN HAS IT ALL!
The implementation of these requirements represents an unprecedented disruption and confronts the energy industry with immense tasks that also have to be fulfilled in a short time – including testing, debugging and finally the productive switchover of all market partners:
Test environments must be available from June 1, 2023 at the latest and all tests must be completed by Sept 30, 2023

Market-wide productive operation begins on Oct 1, 2023

On Apr 1, 2024, the fallback option for using Mail and AS2 ends!
HOW CAN THIS MAMMOTH TASK BE ACCOMPLISHED BY THE ENERGY INDUSTRY?
"The implementation of such a paradigm shift in market communication under high time pressure and in the face of major technological innovations requires an integrative approach consisting of software, hardware and IT security as well as operation and service models. The very tight project time frame as well as the innovation agility of all specifications clearly require a platform or shared service concept in our opinion," explains Dirk Breitkreuz, CEO of Virtimo AG.
VIRTIMO COMMUNICATION SERVICE [VICOS]: THE FULL-SERVICE OFFERING FOR MARKET COMMUNICATION.
With VICOS, Virtimo AG offers a scalable shared service for the complete mapping of market communication, always in accordance with the current legal requirements for the energy industry. VICOS is already being expanded with regard to the new requirements of the BSI: As VICOS users, energy market players benefit from the extensive synergies of the shared service and 24/7 support, regardless of market role and company size.
WITH VICOS FUTURE-PROOF EVERYTHING FROM A SINGLE HAND
In concrete terms, Virtimo assumes all obligations and acts as a full-service provider, starting with initial setup and certificate management, through standard operation, to troubleshooting partner problems. The holistic approach combines optimally coordinated infrastructure, operation and application: highly available, high quality, highly secure. With Virtimo Communication Service, energy market players are not only optimally equipped for the upcoming paradigm shift in market communication, but also future-proofed.
DO YOU HAVE ANY QUESTIONS?

YOUR CONTACT AT VIRTIMO.