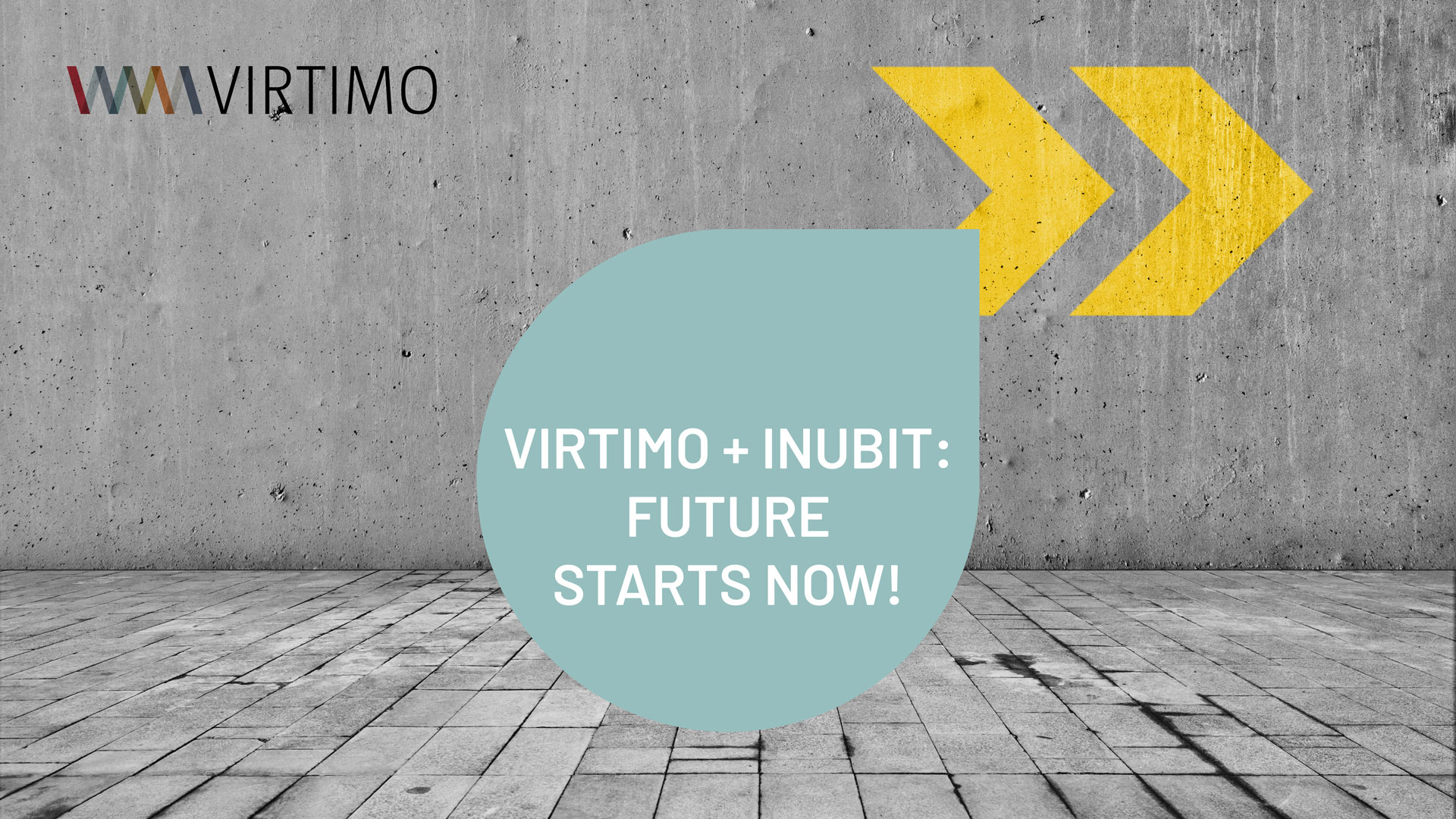 VIRTIMO + INUBIT: LET'S GO!
Ever since our acquisition of the product inubit from Bosch Software Innovations was announced, a number of enquiries and responses have reached us. We would like to take this opportunity to thank each and every person who reached out, as a direct and close dialogue with all our clients and partners is very important to us.
The most frequently asked questions of the past weeks: Why did Virtimo acquire inubit? Will there be any changes?
Virtimo has always been convinced of the power of inubit. Even before the acquisition we had, for many years, serviced about 50 clients from various industries who use inubit for business critical processes. With this background, a long-term, future-proof orientation for inubit is of great importance to Virtimo – being able to ensure and shape this future was our point of decision for the acquisition. Will there be changes? Yes and no. Yes: Once the transition is complete, we plan to strengthen inubit by investing in new solutions and operating models and open up new areas of application. However, there are no current plans for any changes on pricing models or existing contracts – we distinctly believe in long-term cooperation and ensuring client satisfaction. For this, we will give it our all with our team of 80 specialists!
TRANSITION – GET READY FOR INUBIT
We are currently in a transition phase of transferring all required services to Virtimo. The most important premise in handling this transition, for us – in joint effort with Bosch Software Innovations – is to make it as unobtrusive as possible. To guarantee this, Virtimo can rely on Bosch SI services in all areas until the service can be fully provided by Virtimo. We would like to give you a brief overview of the current status:
Product management and development: We have already been deeply involved in the current product management tasks and as such have gained detailed insights into the preparation of the winter release, as well as worked with Bosch Software Innovations on planning for the next sprints to come at the beginning of 2020. The actual product development itself will continue to be done by the same team of developers already in charge under Bosch Software Innovations. As such, there are no changes necessary in this area and the many years of know-how of the staff remain. The infrastructure required for the development (e.g. Bitbucket, JIRA, Confluence, …) has been newly established at Virtimo and the build processes have been integrated.
Customer support will be provided by Virtimo starting on 1st January, 2020. You can contact our support at +49 30 555 744 055 or inubit-support@virtimo.de. The ticket system has been set up at Virtimo and is currently in testing. For an initial transition period we will continue to use the Bosch SI ticket system. Once the move to the Virtimo system is under way, your existing tickets will be transferred, provided that you have agreed to the transfer of contract.
The training centre will be continued by Virtimo; the first training courses are scheduled for January. A training section detailing all the usual information will soon be incorporated into our website – until then, please contact us at training@virtimo.de
YOU + VIRTIMO + INUBIT
Cooperation with you is very important to us – especially understanding the concerns you might have for the future of inubit. We would like to get to know you and your application scenarios more closely and are therefore planning to visit all interested clients within the next year. In addition, we are already busy preparing the following events:
E-World 2020 – the leading trade expo for the energy industry. We are looking forward to your visit – further information will follow here shortly.
Virtimo Visions 2020 – our client event for creating a road map, for introductions to interesting scenarios and for mutual exchange. Virtimo Visions 2020 will be devoted to inubit and as such lend a new look to what was previously Bosch iDay. In planning for June – further information will also follow here shortly.
Complementing these events, we will continuously add content to our website over the next few months – a first step is the addition of a page for inubit.
Lastly, we would like to ask you to agree to the transfer of contract to Virtimo soon – only then can we gain an overview of all information needed for a successful collaboration and support you in all your concerns.
We are looking forward to our future collaboration!
ANY QUESTIONS REMAINING?
WE ARE AT YOUR SERVICE AT ALL TIMES FOR ANY CONCERNS.
YOUR CONTACT AT VIRTIMO.